Juice Up Everyday
At Juice Ơi, you can both enjoy fresh healthy juice and taken good care. Welcome August with a splendid Bohemian Handbag from coir yarn handmade with love by Boholy girls, value of 470,000đ.

With 1 order of at least 5 juices or nut milk delivered in one spot or within a week, placed from 1/8/2016 to 15/8/2016, you get 1 lucky draw. More orders, more chances to get the prize. Juice Ơi will organize the lucky draw on 16/8/2016 and announce the result on Facebook juiceoi. The prize will be given by hands to the lucky client. Make orders now at www.juiceoi.com / 0902921282 (Viber/Zalo)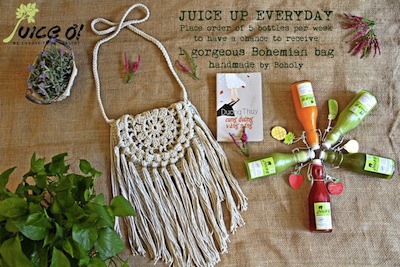 Với Juice Ơi, bạn không những thưởng thức nước ép chất lượng mà còn được chăm sóc chu đáo. Xin chào đón tháng 8 bằng 1 món quà đặc biệt là Túi Bohemian bằng sợi vải xơ dừa cao cấp & được đan bằng tay công phu bởi các cô nàng cá tính Boholy, trị giá 470,000đ.
Với 1 đơn hàng từ 5 chai nước ép trở lên giao 1 lần hay trong 1 tuần, đặt hàng từ 1/8/2016 đến 15/8/2016, bạn sẽ có 1 phiếu rút thăm. Càng nhiều đơn hàng thì cơ hội nhận quà càng cao. Juice Ơi sẽ tổ chức rút thăm vào ngày 16/8/2016 và công bố trên Facebook juiceoi. Phần quà sẽ được Juice Ơi trao đến tận tay cho bạn. Đặt hàng ngay tại www.juiceoi.com / 0902921282 (Viber/Zalo)